Walking Home Near 14th and V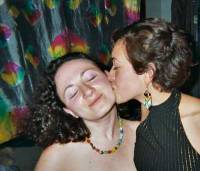 Marcella kisses Zoe

It is midnight. We are at 14th and V.
We've had the kind of night that lets you believe
In this world, pretty girls have it easy.
We've been flirting and dancing and putting on a show
Feeling fine from our heads to our oh-oh-oh-so-sexy toes
Assuming we'd earned it
Thinking we deserved it
Boys watching those curves hit
Telling us they loved it that tight fit
Buying us drinks & telling us to work it...
So...we're walking.
You know, when you're coming down
From a good night.
The tiredness
Is kicking in - but it's all good - and you can believe -
Yes, for a little while you can tell yourself
That all is well on God's great green earth.
Those people over there - they're happy!
Humans are all the same
And none of us really understand
The rules of the game
We were handed from birth.
We've all got the same search
The same worth
We tread the same dirt
We all hurt - hate - celebrate - anticipate
We all feel joy....
Yeah. So. Anyway, 14th and V. Midnight.
There's some reaaaaalllllly long shadows
On the side of the road
When you're a sweet young thing walking home
In nothing but a party dress, cleavage, and high heels.
(Know how that feels?)
And my friend Marcella says, "Stop.
Can you hear that?" "What?"
"That."
One of the shadows isn't empty.
In fact, it is a party.
But a very different kind
Than the one where I'd been
With such glee and such lack of humility. This is
A very different party indeed.
A man pushed a girl up against a fence
And he is punching her in the face. That
Was the sound we'd heard.
His fist - On her cheek.
Thwack!
Four of his friends
Are standing behind them, in a semicircle.
They are laughing.
I feel sick say "We need help quick
We can go across the street -
I'll call the police -"
Thwack.
Reach for the cellphone in my bag -
Thwack.
Are you listening to me?
There is blood
On her cheek.
Her blood
On his fist.
And every feeble word I'd said Marcella missed.
"I just can't watch that. A man hitting a woman.
It's wrong. I can't just watch."
She is already running
Toward them - this pretty little miss
In her pretty little dress,
But her eyes are blazing like two supernova suns
I said her eyes are burning like Judgement day has come
Her eyes are shooting spears of outrage
At those men in the shadows
She will take no excuses
For their sinful abuses -
(Thwack.)
And she walks right past those four tall men
Into the middle of the shadow,
And she grabs his fist
In the middle of his blow.
"What are you doing, man? You're hitting a woman?"
It's all so slow and fast
I don't know how long it lasted
Time feels like molasses
And my mind says "help"
And my feet say "run"
My mind says "courage"
And my feet say "run"
My mind says "friendship"
And my mind - just - won.
So I walk up behind her
A child following teacher
Playing follow the leader
(Understanding for the first time
the phrase "walking on eggshells")
Thinking, Well
My stiletto heels are pretty sharp
I might get a good kick in the dark
Then take them off to run
(As long as noone's got a gun...)
They all turn to look at us.
"I just couldn't watch that. A man
Hitting a woman."
And she draws herself up to her five foot two height
And pierces them all with those eyes so bright the light
Of justice shines from those eyes and she says to the woman
"Are you all right?"
None of them move
I guess they are shocked
By her audacity
The felicity of her reciprocity
Of the bonds of sisterly sympathy
And then the man -
The big strong man with blood on his hands - he says
"No. You don't understand.
She screwed me over. I mean, she ratted me out.
She's a bitch - " and again he raises his fist
As he assigns the blame but
He doesn't actually hit
And I see he is ashamed.
The friends are all muttering
As they look at me cringing
Behind my friend like an embarassed fluffy puppy
Raising my wee voice to say
"Yeah you guys have got to stop
I've called the police!" and if I'd been alone
I can tell you it's kinda clear
It wouldn't have gone well for me.
"That doesn't matter, look
A man can't hit a woman
Man, you just can't do it..."
And she takes her sister by the hand
And sweeps away like a queen.
Then I follow in her lead
Muttering "Oh shit, Marcella, they're
Totally going to follow us home."
"They won't. They're not going to hurt us.
I won't let them hurt you."
I've never felt so naked in a little silk dress
Like you could see right through to my belly, butt, and breasts
As we walk away
And we don't look back.
We take her home
Walking slowly all the way.
It is midnight and the shadows
On the street are there to stay
And I try to speed up but Marcella says,
"Wait. It's okay." And we are.
We are safe.
I feel good to finally be of use
I wash my sister's face and give her juice
But her sobs are coming in a mob
Wracking her sides choking her eyes
And so I hold her and say
Breathe...
In...
and out...
Breathe....
And we give her a hug
And we tell her "It's okay"... at least, for today.
And I go on home to my overprivileged bed
Memories racing through my timid meek head
And you know I can't say
I'd do any better today -
In a situation where I know what's right
But I'm so afraid...
But this poem is for Marcella
Who did NOT run away
Who faced down five fierce men
In her righteous rage
My friend who flew to her sister's aid
My friend who lived to fight another day
My brave friend
Who could not
Just
Watch.